This study focuses on "Indoor air hygiene and use of Air Purification Technologies in movie theaters during the Covid-19 pandemic".

Conducted by: Fraunhofer Institute Germany
Funded by: Federal Government Commissioner for Culture and Media (BKM)
"Medklinn Cerafusion™ Technology reduces 99.97% of the viral load in cinema halls."
As businesses reopen and with less covid restrictions, people look forward to life with some semblance of normalcy. However, with Covid infections remaining high, cinemas in Germany have intensified efforts to offer a safe environment for moviegoers. Hygiene protocols, face masks, reduced occupancy, social distancing, and increased ventilation for cinema halls are in place but more is needed to reduce the risk of infections. This led to the CineCoV Study which was agreed and funded by the German government based on a collaborative initiative with the SPIO – Leading Organisation of the German Film Industry. The study is now used as a basis to achieve a higher level of hygiene with safer hygiene concepts for cinemas and large halls. It is also a reference for the Institute for Occupational Medicine, Safety Technology and Ergonomics e.V. (ASER) and is made available to cinema operators as guidelines via an online information portal published on the CineCov website.
The CineCoV study was conducted by Fraunhofer Institute, Europe's largest application-oriented research organization. The Institute evaluated the effectiveness of two air sterilization technologies against aerosolized viruses. Announcing the results of the study, the Institute made recommendations for the implementation of Cerafusion air sterilization technology to reduce the risk of transmission in enclosed halls where large numbers of people congregate.
The study conducted in the Cincinnati cinema in Munich showed that Cerafusion air sterilization technology reduces viral load substantially in a short time period when compared to ventilation alone. The hygiene and indoor climate research group at Fraunhofer used surrogate viruses and evaluated both with and without the use of Cerafusion air sterilization technology. Cerafusion achieved a 99.97% viral load reduction in the immediate vicinity of the virus source. As for infection risk, it was reduced by a factor of between 2.5 and 7.5. For comparison, this is like the difference between the infection risk of vaccinated and unvaccinated individuals, for which the REACT-1 study reports a factor of 3.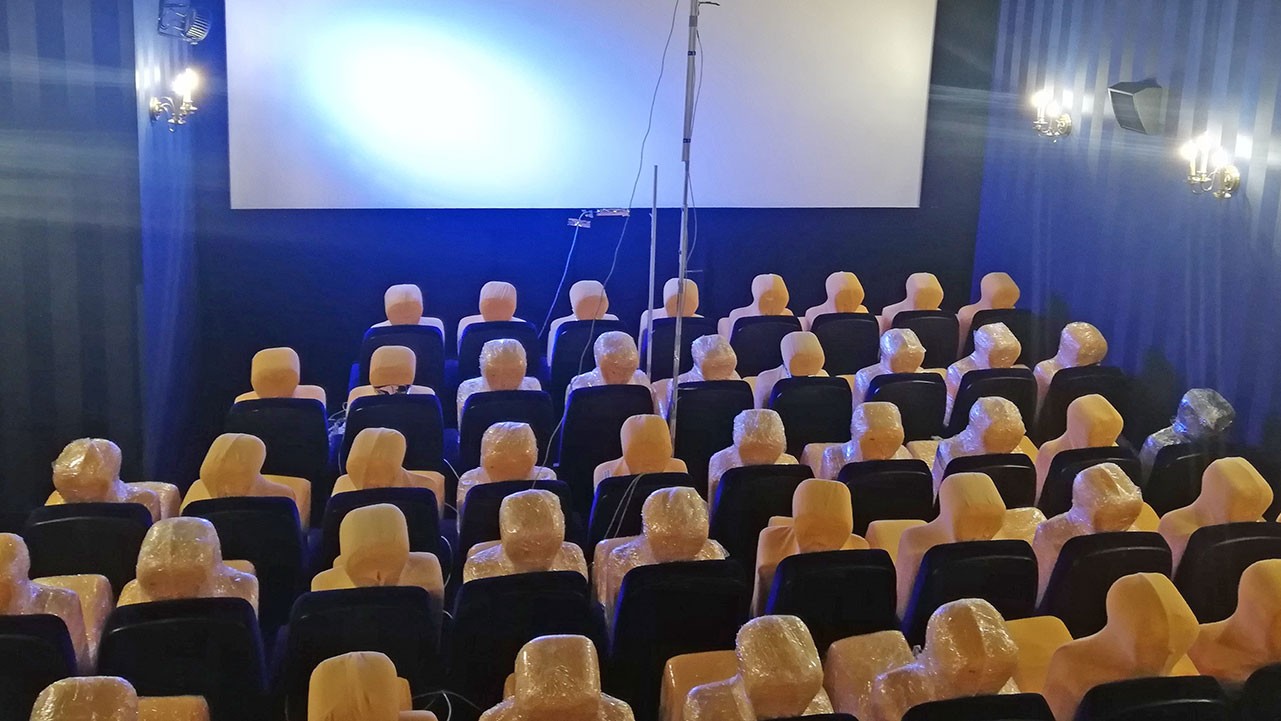 Measurement of the ventilation situation and aerosol spread in the »Neues Rex« cinema in Munich. The influence of visitors is simulated by heat load simulators. Photo: © Fraunhofer IBP. 
To measure and establish effectiveness on viral load reduction, aerosolized viruses were constantly introduced into the hall and air samples taken at a distance of 1.3 m. Compared to the baseline measurement, viral load was reduced by 99.97% when the first sample was taken. The possible risk of infection was successfully reduced in the immediate vicinity of the virus source. According to Fraunhofer Institute, laboratory tests indicated that low ozone concentrations of around 60 μg/m3 (0.03 ppm) produces no critical by-products and falls under the hygienically harmless category in TVOC, making it safe for use with the presence of people.
A simulator tool for designing ventilation systems in cinema halls is also provided in the information centre in cooperation with Fraunhofer Austria. When implementing  hygiene measures, cinema operators will find support to counter uncertainties regarding hygiene, occupational safety, and technical feasibility.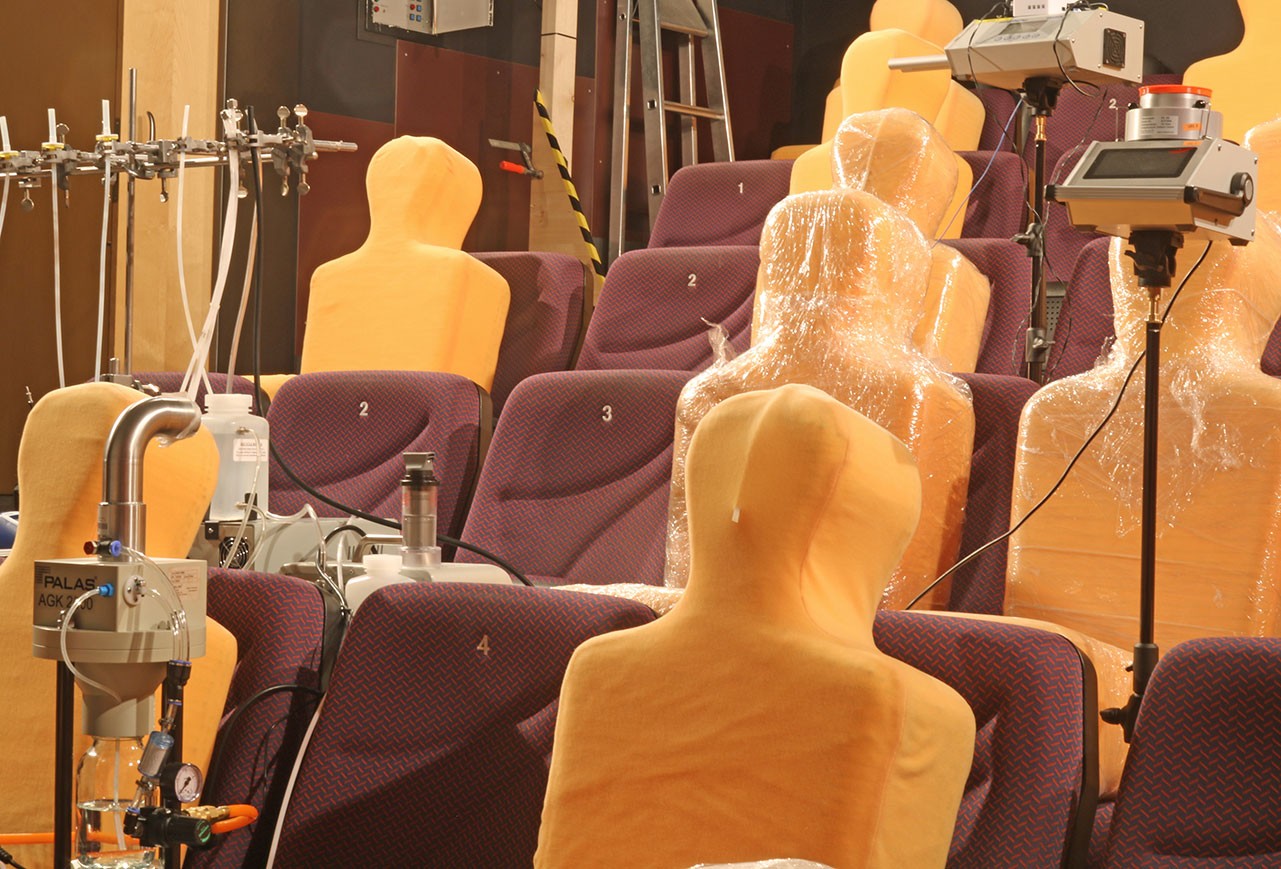 Measurement of the spread of surrogate viruses (model viruses) in the »Trifthof« cinema in Weilheim to evaluate the effectiveness of air purification measures. Photo: © Fraunhofer IBP.
Speaking on the CineCoV study and low-level ozone sterilization, Daniel Lu, Chief Technology and Innovation Officer of Medklinn International said, "this is another important achievement for Cerafusion. Last year, an aerosolised virus study conducted by HygCen Germany showed a 99% viral load reduction in just 10 minutes. These studies are testament to the effectiveness of Cerafusion in eliminating airborne viruses fast and safely. Both these studies were conducted with low-level of ozone within public health and safety recommendations."
He added that, to reduce risk of Covid spread indoors, the Malaysia Chapter of ASHRAE had recommended ways to achieve WHO Ventilation rate of 10L/s per person. Given it is not always possible to achieve adequate ventilation in enclosed indoor spaces, ASHRAE created a combined matrix to achieve the equivalent intake of outdoor air. Low-level ozone sterilization within public health and safety guidelines of 0.05ppm is one of the recommended strategies to achieve the ventilation rate of 10L/s per person and Cerafusion meets with the requirement.
On Cerafusion being a recommendation in both the Fraunhofer CineCoV study and ASHRAE Malaysia in its ventilation guidelines, he said "these are significant milestones for Cerafusion air and surface sterilization technology which was developed by Medklinn engineers in Malaysia and patented in 2008. The growing recognition and acceptance internationally are indeed encouraging. The results from Fraunhofer reinforces that low-level ozone sterilization is indeed safe with no harmful by-products. Something Medklinn have been saying for many years"
Over the last 17 years Medklinn International have been active in building awareness of low-level ozone sterilization and Cerafusion Technology as a safe and environmentally friendly disinfectant.  This effort reflects the company's firm belief that there should be a reduction in the use of harmful chemicals and to rely more on technological advances in the field of hygiene.
Daniel is optimistic about the future of low-level ozone sterilization being a preferred hygiene solution. "With the Covid-19 pandemic, more organizations are coming to realize the importance of maintaining a high level of hygiene and to use air and surface sterilization technology that is reliable and cost effective," says Daniel.
---
Background information on the CineCoV Study Germany
CineCoV Study: Indoor air hygiene and use of Air Sterilization Technologies in cinemas during the Covid-19 pandemic
To implement hygiene measures in Cinemas during the Covid-19 pandemic, it is necessary to investigate workable solutions to minimize the spread of corona viruses via aerosols – especially in event rooms with large numbers of people present. For this purpose, representative rooms are selected in the project with existing ventilation system. The operator installed the air sterilization technologies. Their cleaning effect is then evaluated in experiments using corona surrogate viruses and flow technology processes, and the aerosol spread is shown as an example using simulations. The knowledge gained then forms the basis for the development of prototypical hygiene measures for cinemas. Support is provided for implementation in companies to counter uncertainties regarding hygiene, occupational safety and technical feasibility.
The CineCov study was funded by the Federal Government Commissioner for Culture and the Media (BKM).
Project consortium:
Fraunhofer Institute for Building Physics IBP
Institute for Occupational Medicine, Safety Technology and Ergonomics e.V. (ASER)
University of the Federal Armed Forces Munich, Institute for Fluid Mechanics and aerodynamics
Fraunhofer Singapore
Fraunhofer Austria
The umbrella organization of the film industry e. V. (SPIO)
Click here for Extract of Fraunhofer Project Final Report
Click here for Fraunhofer Project Information (ENGLISH)
Click here for Fraunhofer Project Information (GERMAN)
---
R
elated articles: