In Harmony with nature and the Environment
Bacteria, germs, viruses and invisible contaminants are responsible for allergies, infections and many diseases. Unlike dust or stubborn dirt, pathogens and contaminants cannot be eradicated easily without the use of chemicals that are harmful to health and the environment.
Medklinn Promise
Cerafusion™ Technology developed by Medklinn emits active oxygen, working in harmony with ecological principles and ensuring that the air we breathe and the environment we live in is purified. It eliminates 99.9% of all viruses, bacteria, moulds, allergens, and pollutants in the air and surfaces continuously 24/7 – an environmentally friendly method without chemicals.
Safety 24/7
Medklinn cleans the air and surfaces continuously 24/7 with the help of active oxygen, as produced in nature. The best part about it is the air does not have to pass through the device to be cleaned. Instead, Active Oxygen is released into the air via the Medklinn sterilizer. Active oxygen released into the air becomes the cleansing element for the whole environment – not just for the air but also surfaces which are easily overlooked, such as lower edges of tables, armchairs, fabrics such as curtains, seat covers or bedspreads, cuddly toys, tools or all other surfaces that are difficult to clean are sterilized and made safer.
Another advantage is the air does not pass-through filters that have to be disposed and the sterilizer can run 24/7 with very low power consumption.
Past & Future
Medklinn is an innovative company that is experiencing dynamic growth worldwide. The scientifically certified and tested sterilization technology was developed in Asia and is used in private households as well as in professional areas.
For the living area, there are small sterilizers that weigh 220 grams – less than a tablet, look good and can also be used in hotel rooms or holiday apartments. Sterilizers for cars are easy to insert via the cigarette lighter socket. Sterilizers for the professional sector are available in a wide variety of sizes. From small bars to cinemas and large hotels, from warehouses or shopping malls to convention centres and public buildings: Cerafusion™ Technology and air and surface sterilization devices from Medklinn can be used in closed rooms of almost unlimited size. All sterilizers offer a significantly higher level of hygiene, protection and security than conventional sterilization practices.
In a world where hygiene and safety solutions are often complicated, mostly ineffective and only temporary, Medklinn's patented sterilization technology is a permanent solution to ecologically and effectively eliminate bacteria, germs and viruses. Today the company is successful worldwide in: Malaysia, Singapore, Indonesia, Thailand, Myanmar, the Philippines, Vietnam, Macau, in the USA, Canada, Great Britain and Australia.
Medklinn is now in Germany, Austria and Switzerland.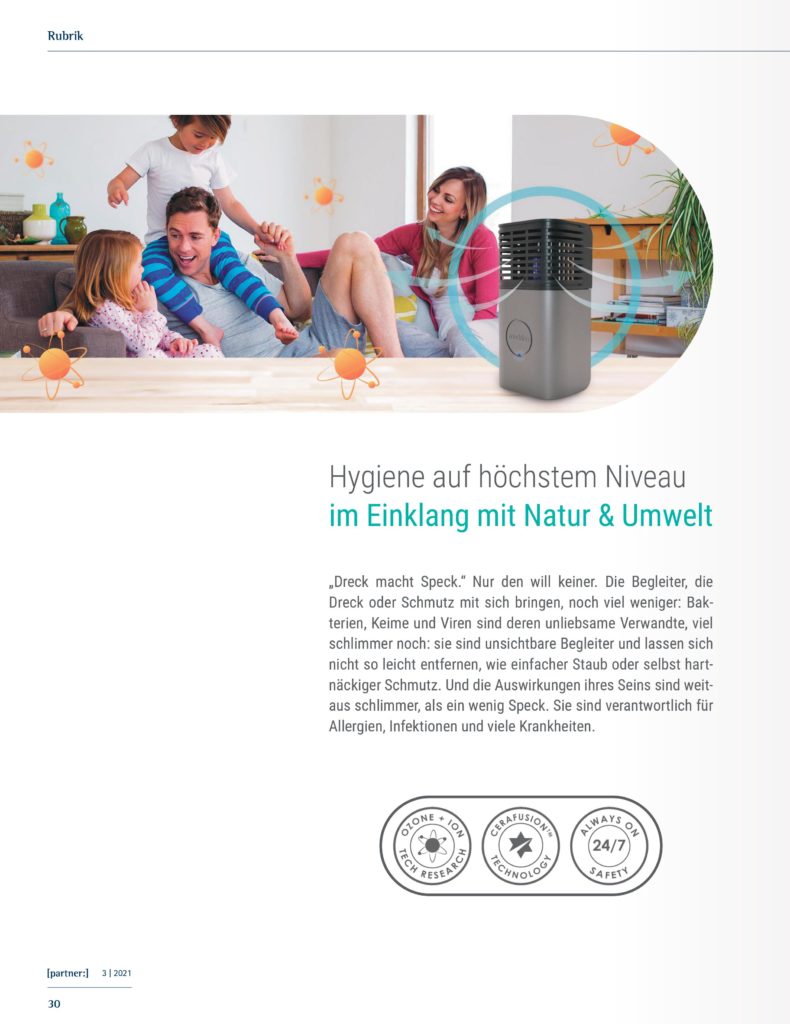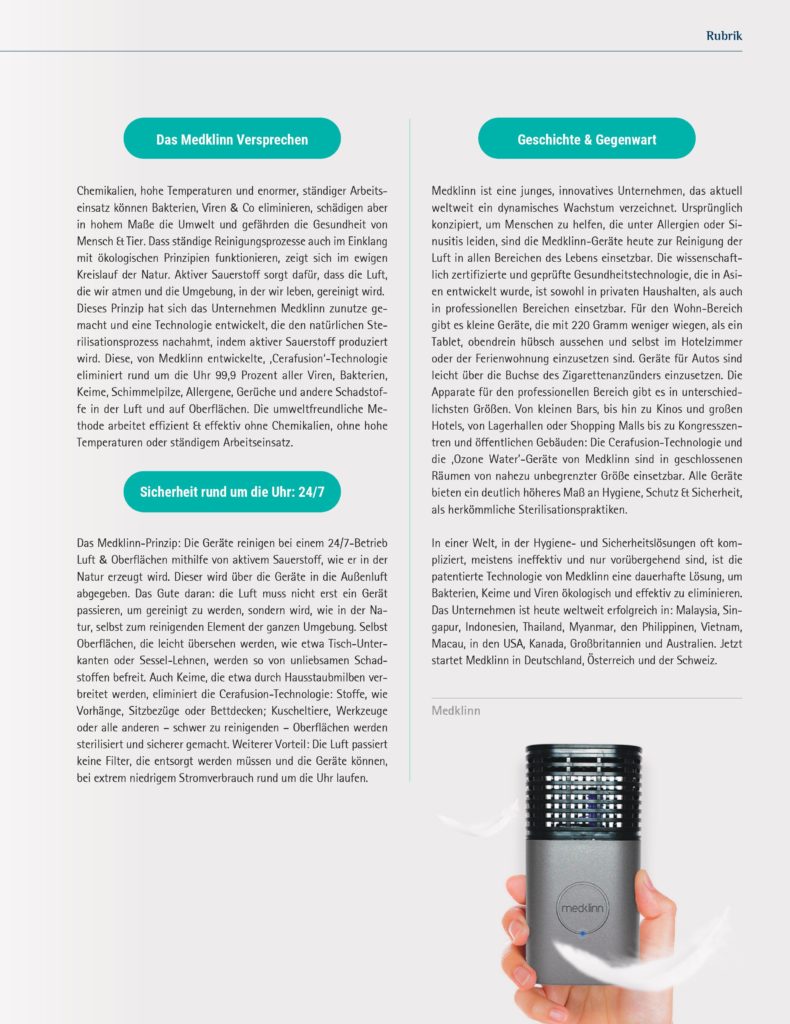 ---
Related articles: